Chimamanda Ngozi Adichie served as the face of Dior's most recent handbag advertising campaign, which Maria Grazia Chiuri dubbed "Lady 95.22." The first phase of the campaign includes a series of black-and-white pictures of the Nigerian author as well as other remarkable women from the fields of fashion, film, literature, sports, music, and art, such as Anya Taylor-Joy and Beatrice Borromeo.
According to the French luxury fashion house, "this new bag offers a totally contemporary reinvention of the iconic lines of the Lady Dior, with its Macro and Maxicannage motifs, soft curves and signature charms. Its unique name references the years of its predecessor's and its own creation."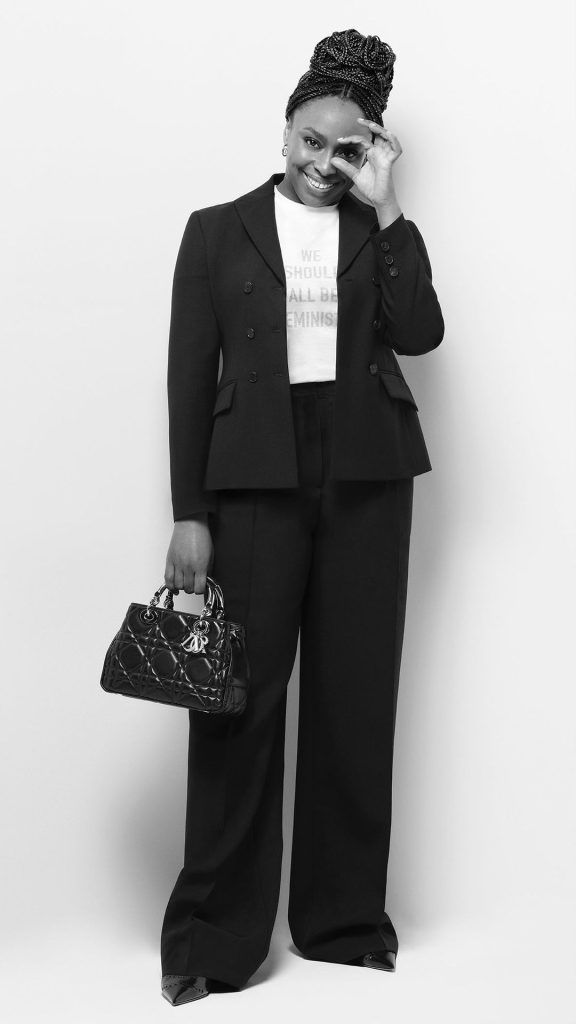 Wearing the "We Should All Be Feminists" T-shirts, paired with a black suit and a matching Lady 95.22, she says, "I feel happiest when I am surrounded by the people I love—by my family, by my friends. I think I just light up."
She adds, "I think femininity and feminism have often been seen as mutually exclusive. And so, I think for a long time, people felt that being a feminist meant somehow to reject everything to do with feminity. Right so, you have to in some ways, kind of appropriate a man to be a feminist, and I don't think so at all. I think that femininity and feminism actually do complement each other. Women should be allowed to have a broad range of what they can be, who they can be, of how they can present themselves. And so I think femininity is one of those options and I love femininity."
Talking about the bag, she continues:
There's something almost timeless about the bag. I think it would be interesting to juxtapose that with a less timeless outfit – a lot of colour, a lot clashing, a lot of maximalism and then the bag. Its beauty is not rooted in any particular period. Timelessness means that it cuts across cultures. It doesn't matter where one is looking at a beautiful timeless thing, one finds it. One of the motos I like to live by is, never admire quietly. If I admire something about somebody, I think it's important to tell them. We humans are so fragile and it's important to give people their flowers while they're here. So never admire quietly.
See the campaign video below.