GLOVER THEATRE SERIES.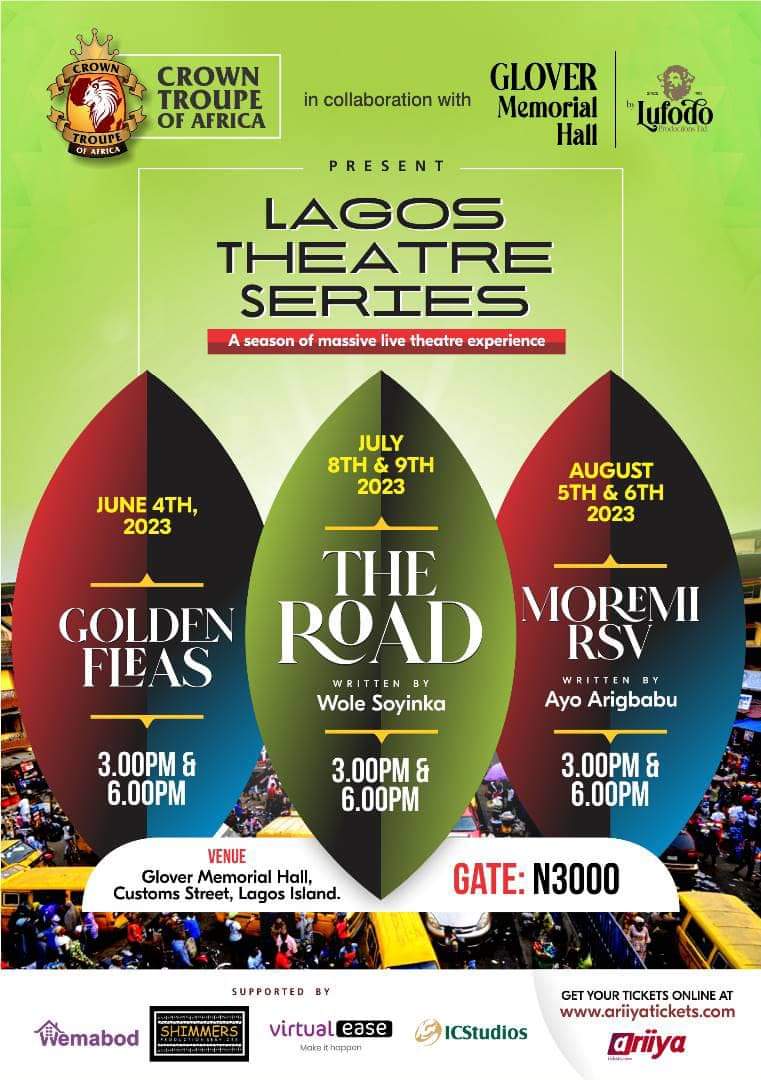 Come June 1st, 2023, your eclectic theatre company – Crown Troupe of Africa, will turn twenty seven(27) years.
It has been twenty seven years of consistent creative outbursts.
Twenty seven years of consciously committed theatre.
Twenty seven years of commitment to a cause we believe in – the viability of the arts as a veritable instrument for social engineering.
This would not have been possible but for the special grace of God Almighty and those vessels of God – you.
Yes, you.
You are the special people in our lives who keep encouraging us by acknowledging our modest contribution to the sustenance of live (or living) theatre. You believe in and support our dreams. You take time out of your tight schedule and expend your resources – to spend time with us at our events. We owe you all debts of gratitude.
To commemorate our twenty seventh (27th) anniversary, we have been fortunate enough to secure a collaboration with that historical edifice – Glover Memorial Hall under the capable management of Lufodo Productions. The significant partnership has birthed a mini theatre season, tagged: GLOVER THEATRE SERIES. The pilot edition shall run for three months from June; the month of our anniversary, to the first week of August, culminating in our annual theatre feast, Eko Theatre Carnival (ETC). During this period, we shall be presenting three different play productions.
The Glover Theatre Series shall kick off in June with 'GOLDEN FLEAS ' written by Segun Adefila. This is to be followed in July, by 'THE ROAD' written by the iconic literary giant, Wole Soyinka. To round off the Season in August shall be Ayodele Arigbabu's MOREMI (Revised Standard Version) as Inspired by Sewedo Nupowaku.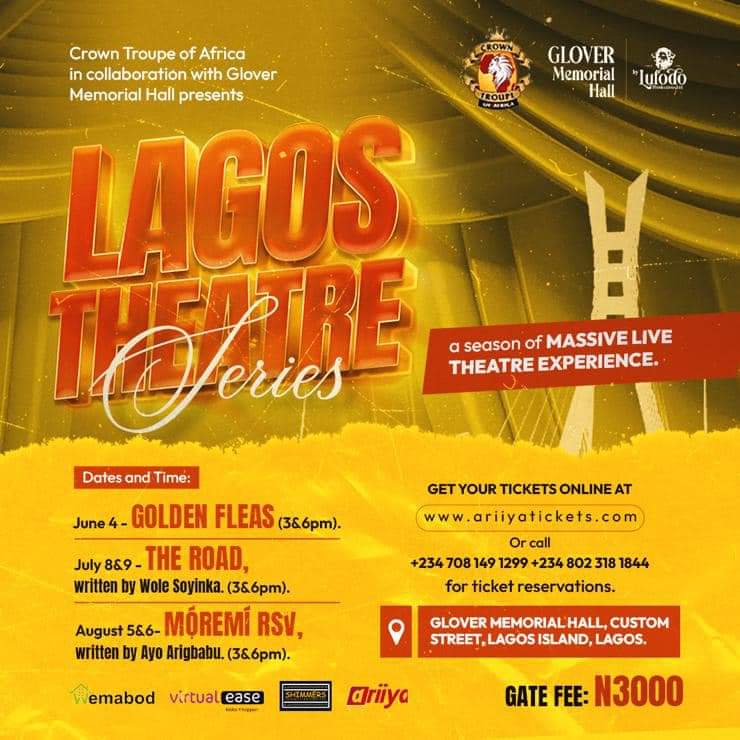 SYNOPSIS OF THE PLAYS, DATES, GATE, AND TIME.
GOLDEN FLEAS by Segun Adefila
In this era of 'Japa' where the search for greener pasture otherwise known as Golden Fleece appears to be the wisest decision to many, the play Golden Fleas attempts to examines this trend. An outcome of a British Council facilitated playwriting workshop organized by the Royal Court Theatre, London tagged NEW WRITING IN DRAMA, GOLDEN FLEAS tells the story of a group of intending migrants who decide to go in search of 'greener pastures' hiding and dodging as they journey to an unknown but hopeful destination. They each have a past that needs to be left behind. A past that touches on socio-economic and political ISSUES. As the play progresses, each share their stories in ' a play within a play' fashion. Their stories take the audience to strange and familiar terrains through music, poetry, dance and drama.
DATE: Sunday, 4 June, 2023.
VENUE: Glover Memorial Hall, Custom Street, Lagos.
TIME: 3:00pm & 6:00pm.
GATE: #3000.
THE ROAD by Wole Soyinka
The society comes under theatrical surgical scalpel through an exploration of the lives of a group of vagrants who are quartered in a junkyard filled with salvaged vehicle parts. All living by the day, they eke out a living on anything that comes their way ranging from touting to scavenging. The vagrants are 'tenants' of a scheming and mysterious Professor, himself a homeless occupant of the junkyard with a suspicious past. They touch on social, religious, political and spiritual inaccuracies through their renditions.
DATE: Saturday & Sunday, 8&9 July, 2023.
VENUE: Glover Memorial Hall, Custom Street, Lagos.
TIME: 3:00pm & 6:00pm (Daily).
GATE: #3000.
MOREMI (Revised Standard Version) written by Ayodele Arigbabu.
Moremi RSV is a modern / contemporary stage adaptation of the popular Yoruba legend developed by Evolution Media as inspired by Sewedo Nupowaku and scripted by Ayodele Arigbabu in 2003. The play takes many liberties with the original legend, the key one being that it addresses the crisis which sees Moremi offer her child as a sacrifice to save her people, from that child's perspective. It is based on the legend of Moremi, the Yoruba Queen who through bravery and personal sacrifice liberates her people from external oppression. Our narration draws exciting inferences from the theme and adapts the tale to contemporary sensibilities. Designed for family entertainment but with particular regard for youthful fantasies and energies, Ayodele Arigbabu's stage adaptation makes a parody out of the original legend, and takes liberties with characterization and plot interpretation. A near musical thriller/comedy, Moremi RSV is enacted in line with the original operatic interpretation done by the late theatre legend- Duro Ladipo. However, succinct communication is maintained on issues of responsibility, and choice, albeit in an irreverent fashion.
DATE: Saturday and Sunday, 5&6 August, 2023.
VENUE: Glover Memorial Hall, Custom Street, Lagos.
GATE: #3000.
TIME: 3:00pm&6:00pm (Daily).
Thank you.
-Segun Adefila
Artistic Director