Actress Ruth Kadiri has described a man who would allow himself to get snatched by his lover's friend as a 'mumu man'.
She said this while reacting to the viral report of a man who got snatched by his baby mama's friend.
A mother of one, Munira, in an Instagram post, accused her friend Adeola Ariyo of snatching her man and baby daddy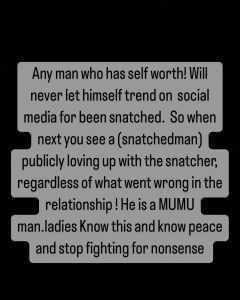 Munira explained she had been friends with Adeola for many years but the latter started dating her man after she introduced her to him.
But Adeola claimed she was never friends with Munira as they were never on the same level.
She accused Munira of always speaking negatively of her to her baby daddy which turned out in her favor, claiming the very act caused him to pick interest in her and they eventually kick-started a relationship.
Reacting to the viral story, Kadiri suggested any man who would trend for such a reason was simply worthless, arguing this type of person was the worst anyone could ever be in a relationship with.
"Any man who has self-worth! Will never let himself trend on social media for being snatched.
So when next you see a (snatched man) publicly loving up with the snatcher, regardless of what went wrong in the relationship, He is a MUMU man.
"Ladies know this and know peace and stop fighting for nonsense.
"Nothing worse than dating a person who has no self- worth. Women/men. Stop fighting over spouses who have no value for themselves.
"Gosh! I don't care what your reasons are. Stop it. Any man that has sense will never publicly humiliate one for another," she wrote.