In the midst of this pandemic, while many entertainers were struggling to survive, and some pushed off the scene due to the New Normal, a new star was born, changing the face and phase of entertainment in Nigeria. His name is Olamilekan Agbelese popularly known as LAYCON, the phenomenal champion of the Lockdown episode of the "Big Brother Naija" reality TV show, who is now the Unstoppable Superstar.
Read Excerpt of Ranks Magazine – The September Male Edition is nicknamed ICONS EDITION
Laycon: The Long Walk to Shall We Begin Album
Between April and September 2020, the song Fierce was making waves across Nigeria. From the barbershop at Lekki Phase One to Iya Basirat Canteen at Mushin, the song was on the lips of the fans who referred to themselves as Icons. The singer Laycon was holed up at a secluded location in Lagos, unaware of his growing popularity. "Fierce" was the last track on Laycon's re-introduction album "Who is Laycon". Unknown to the fans, this album was his fourth body of work. Laycon officially introduced himself to the music industry in 2016 with a 15 track album titled "Young Black and Gifted" (YBAG). Laycon almost went solo on this project except for singer Scarr and Deshinor's input.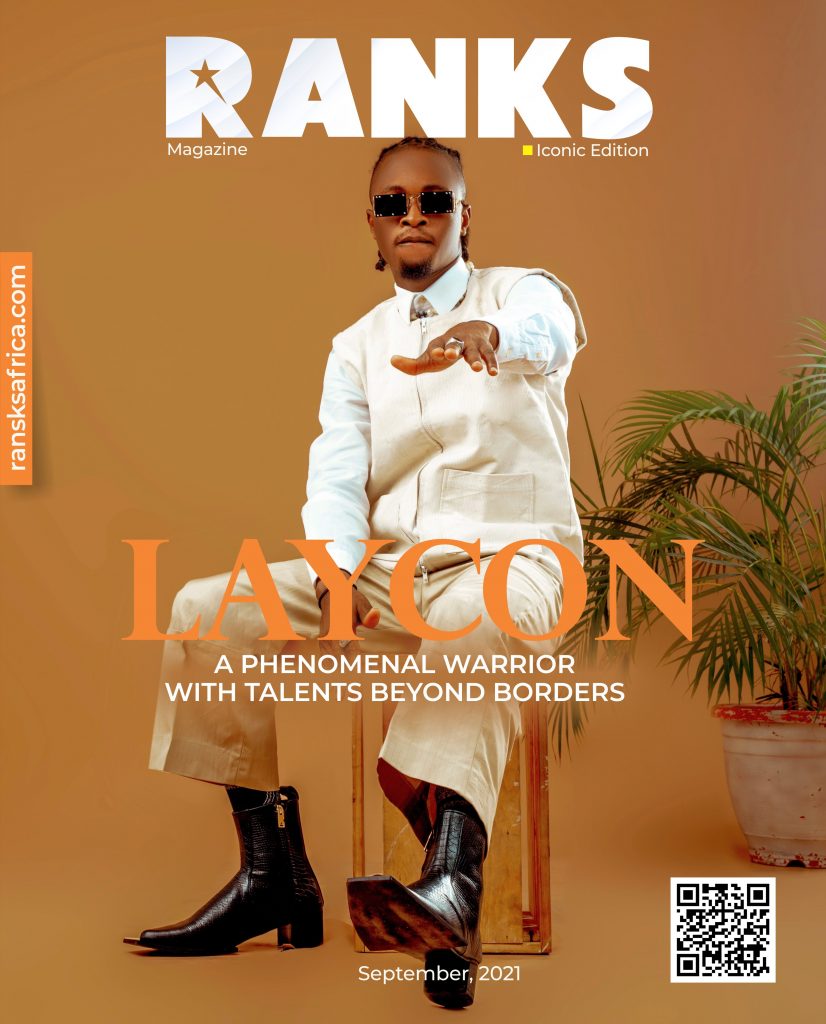 On YBAG, Laycon deplored his simile, wordplay, and metaphoric lines to curate tracks whose theme harks back to love, hedonism, self-acclamation etc. He was spitting with fire but only a few people were aware of the enormous talent embedded in Laycon. Around this period. He was one of the artists on the Nelson Jack tour in Mushin, Lagos State. He also performed at the Beat FM NYSC Concert. He followed up the success of YBAG with the release of the playlist "Any Given Monday" and the second version in October and Novermber of 2019. He bounced off the songs, dropping sublime lines, basking on his anticipated success. "Rap meets Raggae on Marley Monday" – a stand – out track off the project. He also covered Kizz Daniel's Eko. "No One" was laid on a fuji – inflective rap verses.
In April 2020, Laycon continued from where he stopped with the release of an eight – track album which he titled "Who is Laycon under (WIL) Fierce Nation entertainment"?. It was released a few weeks prior the commencement of BBnaija season five, the Lockdown edition. Just like the name suggests, it was an introduction to his music and brand. A ploy to garner more fans, to top charts, and to collaborate with big wigs in the music industry. "WIL" runs in the form of a therapy session. In the bid to unravel his strength, rediscover his essense, and a quest to find the best version of himself. It started with an unnamed female voice: On the intro, the lady said, picking up from where we left off, who are you? Laycon responds saying, I can't to you, I'm still on my journey, I don't know…I don't know..I'm just trying to figure out what part of me they want. Like, should I be myself or should I be they Laycon that they can understand? This segue to the next track "Who is Laycon"? A trap – centered introduction to Layocn. The album's title draws its inspiration from this track. Laycon goes hard with the bars, his verses were filled with hard hitting expressions. The first line hit hard: Who is a Laycon should be tagged a CV. Laycon sells himself, his brand, what he has been through, and what he hopes to achieve in years to come. He alludes to M.I Abaga's greatness while shouting out Girls with No Friend. Singer Deshinor was on the up tempo Hippop, this track lend credence to Laycon street credibility. Laycon's vocal compliments Deshinor's infectious hook. Yusuk Kan Bai (YKB) is featured on two tracks off this album "Accolade and Narcos", the former celebrates beauty while the latter is a plea for reciprocal love. On "Motivation" Laycon name – dropped people in the middle class and lower class of the society. It celebrates hard work. "Who is Laycon?" ends with Fierce, an anthem for his record label Fierce Nation. It featured the legendary rapper Reminisce and former YBNL artiste, Chinko Ekun. The track runs on staccato instrumentals with the trio showing off their rapping skill over an easy – to – remember hook.
"Who is Laycon?" is a perfect re-introduction to Laycon, it encapsulates his journey. On this album, Laycon swirls from rap to singing. At the end of the play, we have a lot of memorable moments to remember. No wonder, there was a spike in the number of streams during this time at BB naija. Even with the myriad of features on the album, he still shows his mettle. BBnaija has produced a lot of talent who always find it difficult to replicate the success when they go outside the house; a lot of them falter. Two or three years down the line, they are no longer in the conversation. Some critics had such fear for Laycon when he emerged winner of BBNaija season five. Three years earlier, BBNaija season two winner Efe was in the same imbroglio. In the end, Efe failedto deliver. Would that be Laycon's portion? This is was the million – dollar question on the lips of the fans and critics. He perished such thoughts with his verse on DJ Neptune's Nobody Icon remix. The song's video currently has more than 2.5million views on Youtube. The song was recorded just two days after he left BBnaija's house. He swiftly followed it up by featuring on Mr. Real Street – inspired tribute to Baba Fela in January 2021. By the time he released "Wagwan" and "Fall for me" in March 2021, the fans were already anticipating a body of work from Laycon. " Fall for me" featured the singer Yusuf Kan Bai(YKB), dwells on infatuations. "Wagwan" is a self – acclamation cruise.
Laycon's fifth body of work "Shall We Begin" (SWB) was released in April 30, 2021. It featured the likes of Joeboy, Mayorkun, Teni, YKB, etc. Finito, Telz, DJ Klem, Jaysnyths, handled its production. SWB opens with a minute and a half eulogy/prayer from the rapper's mother. "God Body" shares similarity with Who is Laycon. "On God Body", he likens himself to god, the track encapsulates his true essence. Laycon rides on the heavy percussion instruments with his lines assertive and confrontational. Mayorkun comes through with his Lamba and ad-libs on the street banger "Verified", one of the stand out tracks on the album. Laycon sings all through on "All Over Me". An excellent display of his versatility. He plays on repetition and ably rides on the Finito – produced track. "Baby" Crooner Joyboy comes through on "Kele". The duo brag about the girls in their respective lives. Star Boy record label signed artist Terri soulfully crooned the hook of Jeje, Laycon optimally explore his lyrical arsenal on the track. When Laycon called himself a sexual enthusiast on his first appearance at the BBNaija, he wasn't mouthing, he walked the talk on "Bam Bam". The explicit track dwells on vain talks. Teni Makanaki and Laycon details the tale of hurtful moments in a relationship. The Skillful sequential storytelling by Laycon amplifies the track.
The previously released "For Me" featuring YKB and "My Lane" ends the album. On "My lane" Laycon responds to naysayers. If the opener explored Islamic prayer, the outro "And So They Spoke" was a detour to Christianity. Laycon and his team took it to the Church. It continued from where your lane stops. On his fifth project, Laycon shows he has come of age. His delivery was topnotch, the themes were spot on and the collaborators complimented the albums. "Shall We Begin" is a paragraph from Laycon long speech. With the ever-increasing Icons at his beck and call, no doubt, the world would be ready to read the statement as it unfolds.
Read Full Mazagine story HERE 
You can Download full Magazine 
https://ranksmagazine.com/product/laycon-icon-edition/