MOVIE REVIEW: Gangs of Lagos: Finally, a crime thriller that captures Isale Eko's reality.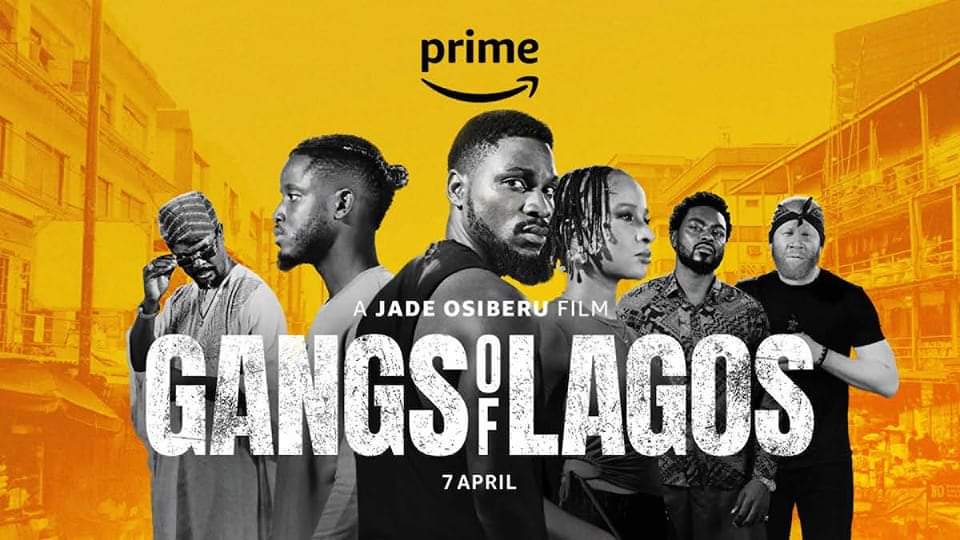 Every year, there is always a movie that leaves viewers wanting more, be it a sequel or a series. Although it might seem too early to conclude which of Nollywood's 2023 releases has managed to capture viewers' hearts, it's undoubtedly that Gangs of Lagos falls into the list of contenders.
Movie Title: Gangs of Lagos
Release Date: 7th April 2023
Director: Jade Osiberu
Runtime: 2 hours plus
Cast: Tobi Bakare, Adesua Etomi-Wellington, Chike Osebuka, Chioma Chukwuka, Olarotimi Fakunle, Chioma Chukwuka, Bimbo Ademoye, Iyabo Ojo, Zlatan, Debo "Mr Maraconi" Adedayo, Yhemolee, Pasuma, Toyin Abraham, Tayo Faniran, Damilola Ogunsi, and Funke Williams
From the same creative mind that brought a new type of action thriller to our screens in 2022 with Brotherhood comes Gangs of Lagos, another crime thriller that will keep viewers on the edge of their seats. There is something about watching Jade Osiberu movies that immerse you in a world that feels yet new. Gangs of Lagos, being the first Amazon Prime Video Original film, knocked the ball out of the park.
Whether it was the spot-on casting choices, cinematography, or stunts, the film has set the bar high for producers in the industry.
The movie's plot revolves around a group of friends to a life of crime in the famous and daunting streets of Isale Eko. After losing loved ones, they set out on a quest for vengeance to right the wrongs of the gangs on the road. Despite possessing many unique qualities, including an authentic representation of Lagos street life, Gangs of Lagos does have a few flaws, ranging from dialogues to the storyline. Let's dive into the review.
The Gist
The beginning scenes show a young boy named Obalola (Tobi Bakare) threatening to kill a woman if she refused to surrender her purse. Initially thinking he was joking, she declined, but upon spotting a knife, she accepted. This incident caused him to be summoned to the "leader of the streets," as the woman is an "omo aiye."
Due to his courage and intellect, a gang leader named Nino is interested in him, becoming his second father figure. Unfortunately, Nino dies, causing Obalola to rely on a life of crime with his best friends, Gift (Adesua Etomi-Wellington) and Ify (Chike Osebuka). They start to work for a greedy and ruthless gang leader, Kazeem(Olarotimi Fakunle).
Things get heated when Kazeem murders one of the gang leaders, pinning it on Oba's friends. This accusation leads to his death, which enrages Oba and the street members, and later causes a war where bloodshed and destruction are the order of the day.
The Good
A significant highlight of this film is the excellent casting choices. It was refreshing to see Adesua switch from a pretty face into a tomboy with ruthless qualities as a man. Tobi Bakare also delivers an award-winning performance as Obalola, along with Kazeem, who embodied what it takes to be a villain of the street. How can we forget the range Chioma brought as she delivered a tear-moving monologue, and Iyabo Ojo, who, although appearing in a few scenes, was still able to express the fierceness that exists in a typical Nigerian mother? Lastly, Tayo Faniran made us fall in love with Nino, ignoring his shortcomings.
The cinematography for Gangs of Lagos is top-tier, as the various elements make each scene aesthetically appealing for the nature of its genre. An additional ambitious cinematic part that paid off was the locations. It is remarkable to see that the movie was shot at places that can be found in the real-life Isale Eko. Gangs of Lagos, to a certain extent, also accurately portrays what street life is like paying close attention to details that will keep viewers interested in the movie. For example, there was a lot of symbolism about the current situation of the country, especially the recent elections. The themes of political thuggery and corruption were heavily implied in many scenes.
Finally, let's talk about the stunts and effects. Gangs of Lagos is arguably the first film to feature a professional execution of deeds. This, added to the realistic blood effects, would probably make it every Nollywood director's guide on how to shoot an action film correctly.
The Bad
Gangs of Lagos radiates with potential, but it still has a lot of room for improvement. Some scenes felt too dragged out, especially the ones with the stunts. It was almost as if the producers were trying to shove the fact that a lot of money, time, and effort went into the actions, so showing them more would give viewers time to appreciate them.
The storyline appears to have been done before. Although it would be hypocritical not to acknowledge the effort to put a new spin on it, it felt like an extra dose of creativity could have made it better.
A few dialogues also felt bland. Either the words had little impact in the context of the situation, or the delivery felt off.
The idea of making 'Gangs of Lagos' a movie is another issue. It would have been so much better as a TV series because then we would see character development not just for Obalola or Gift but also for people like Kazeem.
Final Verdict!
Stream it! Gangs of Lagos is one of the few films that relied on proper research to tell a story most Nigerians do not fully understand.
Verdict: 8/10