"Gbogbo wa la leko" (We all own Lagos)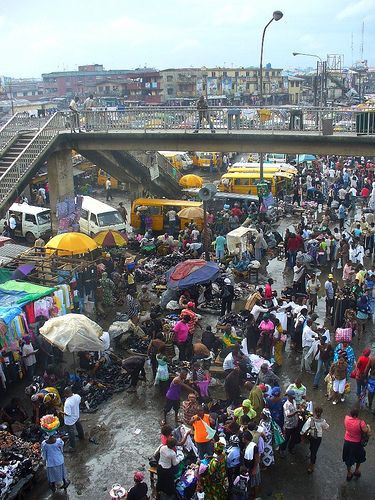 The coinage actually originated from post-oil boom non-Lagosian Yoruba elite, not by the Igbo or any other ethnic group. Go and listen to popular highlife and Juju musicians of those days like Adeolu Akinsamya, aka Baba Eto, Ayinde Bakare, Victor Olaiya,
Tunde Nightingale, Afrobeat king, Fela Anikulapo-Kuti Ebenezer Obey, King Sunny Ade, Bobby Benson and others for your proper education on how Lagos evolved since its contact with other tribes, races and ethnic groups. All contributing to its development by exploring its limitless and unhindered human and natural potentials.
I was surprised to read, when I was young, that the much talented Adeolu Akinsamya was an Egba man. This was because many of his songs were dedicated to the promotion of Lagos, its values, multi-ethnic cultures, struggles, survival, fashion trend, tourism, businesses, industry, commerce and trade. I think Adeolu Akinsamya deserves a full recognition by the Lagos royal authorities and government for his great literary and musical works on Lagos.
I guess he sang about Lagos more than any of his contemporaries of those days. I first visualized Lagos through Adeolu Akinsanya's music on Lagos ever before I stepped on Lagos soil in 1978. What I saw and witnessed in Lagos was a far cry from the ancient raw Ife town, Ibadan or Abeokuta despite being the town of earliest educated people. .
The Yoruba elite particularly from Egba, , Ijebu, Remo, Yewa, Ibadan, saw Lagos, a sprawling cosmopolitan federal capital, as a melting pot of nation and the uniqueness of its location with abundant wealth, development and opportunities. The migration was unstoppable to the extent that almost all extended families in Yoruba land had one "Baba Eko" or "Iya Eko".
My late grandmother, Iyagbore used to tell us how she frequently traveled to Eko to buy special Lagos bread for sale in Abeokuta. "Ibe re mo koko ti lowo mi" (I first got my wealth from there). Iyagbore always delighted us about her business adventures in Lagos in the 60s and post oil boom era of the 70s.. That's Lagos foundational characteristics. Eko Wenjele!
Eko didn't have crude oil that time, but the post oil boom elite, traders other migrants across ethnic groups usually rushed to Lagos regularly to spend their cash for business, social parties, marriage, acquisition of property and business ownership. Its natural endowment with its acqatic splendour added to the beauty of the fastly developing the then federal capiral city founded by the Aworis. The influence of the Benin culture in the traditional rulership and kingship attested to the early settlement of the Benin.
The street lingo, "Lagos is no man's land" is a corrupted version of "Gbogbo wa leko". It was never and can't be a contest for ancestral ownership of Lagos by other Yoruba tribes or any ethnic nationalities like Igbo, Hausa /Fulani, Ijaw, Itsekiri, even Nupe or by racial groups like the Portuguese and the Brazilians. This is the reason no early or later settlers from other towns in Nigeria ever adopted Lagos traditional names or its ancestry identity except its "mide mide" Lagos slang which many Yoruba and non-Yoruba adapted. .
Most settlers still go back to their ancestral towns and villages for traditional and religious festivals like Ojude Oba in Ijebu land, Lisabi day in Egba, Ogun festival in Ondo town. Igbo go for Xmas and new year while the Hausa / Fulani go for Ileya festival. They also take their dead family members home for burial in most cases.
It was during my involvement in a documentary on Madam Efunyela Tinubu many years back that I got to know her ancestral home in Abeokuta. Tinubu square was named after the heroine for her exploit in business, trade, arms supply in Lagos. In fact, Madam Tinubu was the first Iyalode of Egbaland but she was more celebrated and honoured in Lagos. She was so wealthy and powerful to the extent that she had a great influence on Eko traditional kingship. That's a uniqueness of Lagos.
It's this limitless opportunity that made it possible for non Lagosians by ancestral lineages to become governors, commissioners, heads of important MDAs, Chairmen and presidentts of high profile charity and social clubs like Rotary, Lion's club, Island Club, Metropolitan Club, Ikeja Country Club, Ikeja Club and others.
Don't let all these greedy revisionist politicians.and their blind supporters, many of them from rural villages and backwater communities, confuse you or instigate you to cause ethnic division and violence for their personal political gains during and after elections.
Gbogbo wa la leko" (Lagos is a no man's land) is a celebration of Lagos not a contempt .Vote for parties / candidates of your choices on their integrity, character, capacity, manifestoes, trust and fulfillment not on inter – tribal or inter-ethmic and religious considerations . Nobody is exempted from the consequences of bad governance. . The facts speak for themselves.
For instance, the premier Lagos elite Island Club of the movers and shakers showed the city's cosmopolitanism and multidimensional ways to its collective wealth and fame by its foundation. . According to its president, "Island Club was founded on Friday, October 29, 1943, by 50 Nigerians and Non-Nigerians distinguished gentlemen in a private residence of Mr. Ladipupo Odunsi now deceased. Among those distinguished gentlemen were Sir Adeyemo Alakija, Chief S.O Gbadamosi, Bishop A.W. Howells, V.T. Fox, J.H Davies, 0.0 Johnson, Sir Odunmegwu Ojukwu, Sir A.O. Omololu, Dr. R.O Taylor-Cole, J.F. Winter, H.CB. Denton, F.H. Bowen, Ernest S. Ikoli, Sir Loius Mbanefo, Chief J.K Randle, Chief W.H. Bineyand Percy Savage".
Eighty years after, the club, like Lagos, is still waxing stronger because it was not formed on primordial or pedestrian motive. That's one of those appealing features that made Lagos thick and different from Onitsha, Iragbiji, Jada, Daura.
As a cosmopolitan city/state, Lagos cannot be and won't be in the class of backwater rural communities like Ogbagi, Iresi, Iyanfoworogi, and the likes. Know the history of Lagos so you can know where the city for all was coming from beyond the political shenanigans and sanctimoniousness of the few, many of whom are not even Lagosians by birth or ancestral history.
…Culled from Wale Ademowo